ANN ARBOR, Mich., – April 3, 2018- Kraig Biocraft Laboratories, Inc. (OTCQB: KBLB) ("Company"), the leading developer of spider silk based fibers, today announced that the Company has successfully produced the first recombinant spider silk cocoons from the new line of hybrid transgenic silkworms recently created at its Michigan production and research facility. This new hybrid line was created by combining one of the Company's best performing recombinant spider silk lines with a commercial strain, resulting in the largest cocoons in the Company's history.
The first generation cocoons from this hybrid cross have exceeded the Company's expectations with some cocoons nearly twice as large as the original spider silk line cocoons. These larger cocoons reduce operating and handling costs throughout the production process and yield longer silk threads. Mechanical performance testing of this new hybrid spider silk line is expected to begin shortly.
"Crossing our recombinant spider silk silkworm lines with larger traditional silkworm lines is an element of both our research roadmap and commercialization plans. The results we've seen from this first crossing confirm the benefits of those strategies," said Jon Rice, COO. "The size of these new hybrids is beyond what we expected in a first generation hybrid and we are very interested to see how performance testing results compare to the original silkworm lines. We anticipate creating many additional hybrids, over the coming quarters, combining the performance of our spider silk lines with these larger commercial strains. We expect these efforts will increase our production efficiency and lower our cost to produce recombinant spider silk."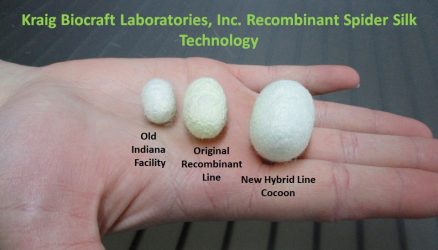 About Kraig Biocraft Laboratories, Inc.
Kraig Biocraft Laboratories, Inc. (OTCQB:KBLB), a fully reporting biotechnology company is the leading developer of genetically engineered spider silk based fiber technologies. The Company has achieved a series of scientific breakthroughs in the area of spider silk technology with implications for the global textile industry.
Cautionary Statement Regarding Forward Looking Information
Statements in this press release about the Company's future and expectations other than historical facts are "forward-looking statements." These statements are made on the basis of management's current views and assumptions. As a result, there can be no assurance that management's expectations will necessarily come to pass. These forward-looking statements generally can be identified by phrases such as "believes," "plans," "expects," "anticipates," "foresees," "estimated," "hopes," "if," "develops," "researching," "research," "pilot," "potential," "could" or other words or phrases of similar import. Forward looking statements include descriptions of the Company's business strategy, outlook, objectives, plans, intentions and goals. All such forward-looking statements are subject to certain risks and uncertainties that could cause actual results to differ materially from those in forward-looking statements. This press release does not constitute an offer to sell or the solicitation of an offer to buy any security.
Ben Hansel, Hansel Capital, LLC
(720) 288-8495
ir@KraigLabs.com