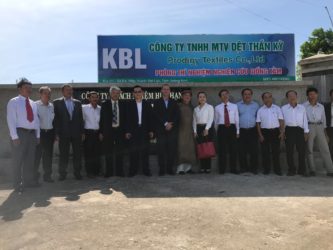 ANN ARBOR, Mich., – July 10, 2018 – Kraig Biocraft Laboratories, Inc. (OTCQB: KBLB) ("Company"), the leading developer of spider silk based fibers announces that, during its trip to Vietnam last week, the Company celebrated the grand opening of Prodigy Textiles new facility in Quang Nam province. This facility will have the capacity, utilities, and security to support the planned capacity growth in Vietnam through the first phase of operations and will be the launch pad for future expansion on a pre-designated 50 hectare parcel of land located nearby.
Working in partnership with its consultants in Vietnam, the Company reviewed numerous buildings and locations throughout the province. The Company ultimately selecting this facility due to its proximity to mulberry production, building layout, condition, utilities, and its proximity to shipping ports and the Company's planned 50 hectare future campus.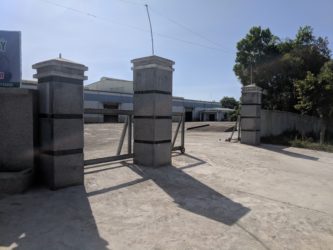 The opening celebration was attended by officials from the province and local district, as well as leaders from the farming cooperatives that will provide mulberry and senior banking officials.
"Having now seen the new facility first hand I am confident that we will soon have a thriving operation up and running," said Jon Rice, COO. "We are now in the process of getting the final building updates outlined and completed so that it will be ready to receive the first shipment of our silkworms. Our team in Vietnam continues to put in an incredible amount of effort to bring this ground breaking project to reality."
To view the most recent edition of Kraig's Spider Sense newsletter and/or to sign up for Company alerts, please go to www.KraigLabs.com/newsletter
About Kraig Biocraft Laboratories, Inc.
Kraig Biocraft Laboratories, Inc. (www.KraigLabs.com), a reporting biotechnology company is the leading developer of genetically engineered spider silk based fiber technologies.
The Company has achieved a series of scientific breakthroughs in the area of spider silk technology with implications for the global textile industry.
Cautionary Statement Regarding Forward Looking Information
Statements in this press release about the Company's future and expectations other than historical facts are "forward-looking statements." These statements are made on the basis of management's current views and assumptions. As a result, there can be no assurance that management's expectations will necessarily come to pass. These forward-looking statements generally can be identified by phrases such as "believes," "plans," "expects," "anticipates," "foresees," "estimated," "hopes," "if," "develops," "researching," "research," "pilot," "potential," "could" or other words or phrases of similar import. Forward looking statements include descriptions of the Company's business strategy, outlook, objectives, plans, intentions and goals. All such forward-looking statements are subject to certain risks and uncertainties that could cause actual results to differ materially from those in forward-looking statements. This press release does not constitute an offer to sell or the solicitation of an offer to buy any security.
Ben Hansel, Hansel Capital, LLC
(720) 288-8495