ANN ARBOR, Mich., – July 12, 2018 – Kraig Biocraft Laboratories, Inc. (OTCQB: KBLB) ("Company"), the leading developer of spider silk based fibers announces today that its subsidiary Prodigy Textiles has signed three agreements with local farming cooperatives in Quang Nam province, Vietnam. Under these agreements the farmers will produce the mulberry necessary to support the Company's recombinant spider silk production.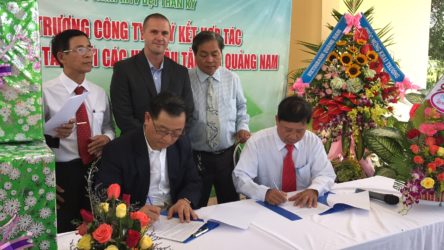 This collaboration with local farmers is a key element of Kraig Labs commercialization strategy, integrating advancements in high tech agriculture and a diverse supply base with the Company's ground breaking spider silk production technology.
"The strength of our approach in creating cost effective and commerciality scalable spider silk has always been based on the use of the existing silk infrastructure," said Jon Rice, COO. "Today's announcement, that we are developing collaborative relationships with these farming cooperatives, is a perfect example of that strategy put into action. These efforts will provide us with sufficient mulberry to meet our production expansion plans for the next several years. In the coming months we expect to expand this model of collaboration by incorporating efforts with downstream processors such as reeling and thread finishing."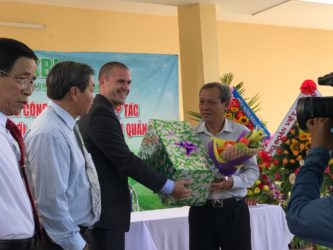 Prodigy Textiles Co. Ltd., signed three memorandums of understanding with independent farming cooperatives at a signing ceremony held at its recently announced new facility in Quang Nam province.
The Company wishes to offer special thanks to its team of consultants who have put in considerable effort to assist us on this endeavor. Leading this project was Mr. Kenneth Le, whose dedication, resourcefulness, and business acumen has been instrumental in our ability to conduct business on the other side of the globe. Mr. Le has played a critical role in supporting scaling up the Company's spider silk technology beyond the laboratory and with eyes towards the global textile markets.
"Mr. Le has demonstrated an incredible dedication to advancing this technology," said CEO and Founder Kim Thompson. "He has been generous with his time while proving unmatched knowledge of international business and an ability to conduct business in Southeast Asia. Beyond the Company's appreciation, I would like to personally thank Ken for his sage advice, his honesty, and his guidance throughout this process. Together, we continue to break new ground in the commercialization of spider silk."
To view the most recent edition of Kraig's Spider Sense newsletter and/or to sign up for Company alerts, please go to www.KraigLabs.com/newsletter
About Kraig Biocraft Laboratories, Inc.
Kraig Biocraft Laboratories, Inc. (www.KraigLabs.com), a reporting biotechnology company is the leading developer of genetically engineered spider silk based fiber technologies.
The Company has achieved a series of scientific breakthroughs in the area of spider silk technology with implications for the global textile industry.
Cautionary Statement Regarding Forward Looking Information
Statements in this press release about the Company's future and expectations other than historical facts are "forward-looking statements." These statements are made on the basis of management's current views and assumptions. As a result, there can be no assurance that management's expectations will necessarily come to pass. These forward-looking statements generally can be identified by phrases such as "believes," "plans," "expects," "anticipates," "foresees," "estimated," "hopes," "if," "develops," "researching," "research," "pilot," "potential," "could" or other words or phrases of similar import. Forward looking statements include descriptions of the Company's business strategy, outlook, objectives, plans, intentions and goals. All such forward-looking statements are subject to certain risks and uncertainties that could cause actual results to differ materially from those in forward-looking statements. This press release does not constitute an offer to sell or the solicitation of an offer to buy any security.
Ben Hansel, Hansel Capital, LLC
(720) 288-8495