ANN ARBOR, Mich., – July 31, 2018 – Kraig Biocraft Laboratories, Inc. (OTCQB: KBLB) ("Company"), the leading developer of spider silk based fibers announces today that work has begun under the collaborative agreement signed between the Company and several farming cooperatives in Quang Nam Province, Vietnam. As part of the agreement reported earlier this month, these farming cooperatives have now begun planting mulberry. This mulberry is the key input for the Company's newly formed subsidiary, Prodigy Textiles, its proprietary hybrid silkworms, and the commercialization of the Company's recombinant spider silk materials.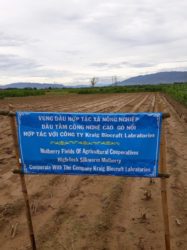 Silkworms are voracious eaters, consuming more than 100 kilograms of mulberry leaves for every kilogram of finished silk produced. For this reason, transportation logistics and local sourcing of mulberry are core to the Company's strategic plan. Under these agreements the Company expects that as many as 2,500 hectares (~6177 acres) of mulberry will be planted near the Company's new factory, supporting Prodigy Textiles spider silk production for several years to come.
"Planting these mulberry fields means that we now able to support rearing our hybrid silkworms at Prodigy Textiles," said Jon Rice, COO. "Access to large quantities of fresh mulberry is a core piece of our production growth strategy and was a key element of our decision to select Vietnam for commercializing our spider silk technology. The local farming cooperatives have the existing capacity to meet Prodigy's mulberry needs over the coming months. These additional plantings provide us with the confidence that we will be able to maitain our scale up plans for years to come, while also providing these farmers with sustaining and reliable income."
To view the most recent edition of Kraig's Spider Sense quarterly newsletter and/or to sign up for Company alerts, please go to www.KraigLabs.com/newsletter
About Kraig Biocraft Laboratories, Inc.
Kraig Biocraft Laboratories, Inc. (www.KraigLabs.com), a reporting biotechnology company is the leading developer of genetically engineered spider silk based fiber technologies.
The Company has achieved a series of scientific breakthroughs in the area of spider silk technology with implications for the global textile industry.
Cautionary Statement Regarding Forward Looking Information
Statements in this press release about the Company's future and expectations other than historical facts are "forward-looking statements." These statements are made on the basis of management's current views and assumptions. As a result, there can be no assurance that management's expectations will necessarily come to pass. These forward-looking statements generally can be identified by phrases such as "believes," "plans," "expects," "anticipates," "foresees," "estimated," "hopes," "if," "develops," "researching," "research," "pilot," "potential," "could" or other words or phrases of similar import. Forward looking statements include descriptions of the Company's business strategy, outlook, objectives, plans, intentions and goals. All such forward-looking statements are subject to certain risks and uncertainties that could cause actual results to differ materially from those in forward-looking statements. This press release does not constitute an offer to sell or the solicitation of an offer to buy any security.
Ben Hansel, Hansel Capital, LLC
(720) 288-8495