ANN ARBOR, Mich., – July 24, 2018 – Kraig Biocraft Laboratories, Inc. (OTCQB: KBLB) ("Company"), the leading developer of spider silk based fibers, announces today that Jon Rice, the Company's COO, held meetings with senior Vietnamese officials, in Quang Nam, and US government officials, at the US Embassy, in Hanoi, Vietnam, to advance its production ramp-up plan for Prodigy Textiles Co., Ltd.
The Company has already received its business license for Prodigy Textiles and its investment authorization for up to $2.2 million, to fund the first phase of its spider silk commercialization scale up efforts in Quang Nam. This approved first phase includes the importation of the Company's hybrid silkworms and production of Prodigy Textiles' unique high performance silk.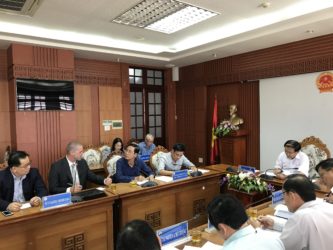 During the meeting with officials in Quang Nam, the Company requested an acceleration of the project schedule, including authorization and the investment license for the second phase of operations, with a total investment cap of up to $50 million. The second phase of the Company's investment plan includes the development of a 50 hectare parcel of land and the construction of a new dedicated factory, designed to support the Company's five year expected recombinant spider silk production output needs. The Company has already begun to work with a local architectural firm to develop the plans for this unprecedented facility and spider silk production complex.
"Our meetings in Vietnam were highly productive. Working with officials in Quang Nam, our team of consultants, and US government staff in Hanoi, we have establish a clear plan and roadmap to accelerating our efforts to bring affordable spider silk to the global market," stated Jon Rice, COO. "The first phase of this effort is underway now and, based on our recent meeting, we hope to have authorization for the expanded phase two effort well ahead of our initial schedule."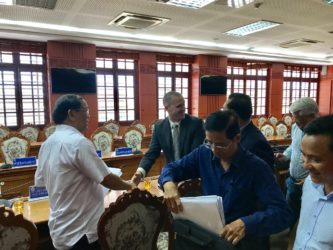 To view the most recent edition of Kraig's Spider Sense quarterly newsletter and/or to sign up for Company alerts, please go to www.KraigLabs.com/newsletter
About Kraig Biocraft Laboratories, Inc.
Kraig Biocraft Laboratories, Inc. (www.KraigLabs.com), a reporting biotechnology company is the leading developer of genetically engineered spider silk based fiber technologies.
The Company has achieved a series of scientific breakthroughs in the area of spider silk technology with implications for the global textile industry.
Cautionary Statement Regarding Forward Looking Information
Statements in this press release about the Company's future and expectations other than historical facts are "forward-looking statements." These statements are made on the basis of management's current views and assumptions. As a result, there can be no assurance that management's expectations will necessarily come to pass. These forward-looking statements generally can be identified by phrases such as "believes," "plans," "expects," "anticipates," "foresees," "estimated," "hopes," "if," "develops," "researching," "research," "pilot," "potential," "could" or other words or phrases of similar import. Forward looking statements include descriptions of the Company's business strategy, outlook, objectives, plans, intentions and goals. All such forward-looking statements are subject to certain risks and uncertainties that could cause actual results to differ materially from those in forward-looking statements. This press release does not constitute an offer to sell or the solicitation of an offer to buy any security.
Ben Hansel, Hansel Capital, LLC
(720) 288-8495